Out with the Innovations Tax team: The British Motor Show 2023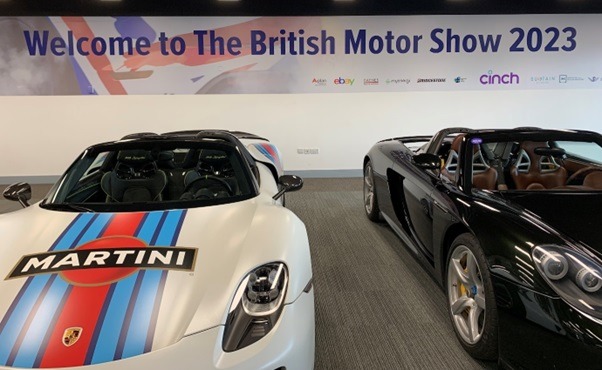 Join Lois Normington – Client Management & Engagement Co‑ordinator – and the Innovations Tax team at the British Motor Show 2023, connecting with manufacturers and suppliers from the motoring world for potential R&D Tax Relief opportunities.
At entrance to the show, the golden Lamborghini from the Fast and Furious 10 movie welcomed us. The Lambo itself seems to be based on a gold-plated Lamborghini Aventador, which was first mooted back in 2011. Designed by engineer and artist Robert Gulpen, the car was carved by a single 498kg block of solid pure gold. From there, visitors were surrounded by classic, race and record-breaking cars, motorbikes and go-karts! A rife family event today with lots of things to do.
The Morris JE caught my eye. A British design classic with a sustainable future. It features state of the art EV technology and beautiful British craftmanship. The Glamper Van was an opportunity to have a picture in the back of a VW camper van surrounded by a flower wall and glistening golden décor. It offers revelers an Instagram-ready photobooth with props, lighting and camera with makeover filter. Volkswagen Commercial Vehicles also displayed the award-winning, all-electric ID. Buzz at the events.
Laura Bignall, Brand and Performance Marketing Manager at Volkswagen Commercial Vehicles, said: "After the success of the PennFest last month, we are delighted that even more festival-goers will have the opportunity to experience the Glamper Van. Since its launch last year, our all-electric ID. Buzz Cargo has built a dedicated fanbase of its own and we can't wait to go out on tour, so even more people can discover the benefits of zero-emission driving!"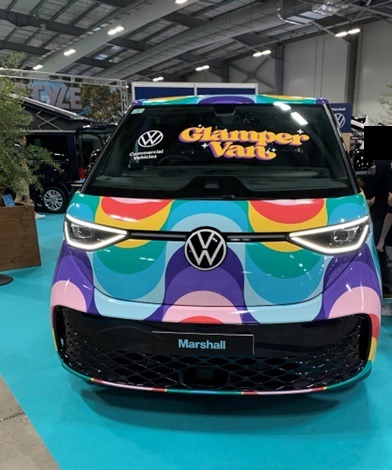 From private collectors clubs, police, recovery and commercial vehicles, there was everything to see at the British Motor Show today. Restoration projects, 1927 World Land Speed Record Breaker Sunbeam, to brand new Ferrari's being sold in excess of £440k!
I did get to try a new pair of hair straighteners too! The technology's changed from metal plates heating to instead using infrared to straighten your hair. These infrared hair straighteners are better than conventional hair straighteners due to the difference in heat they supply to straighten the hair. Infrared heat releases negative ions to straighten the hair. These negative ions help preserve the natural hair oils to prevent the hair from getting damaged or frizzy, and they definitely made my hair feel smooth and glossy!
I caught the end of an interview with Charlotte Worthington – BMX Gold Medal Winner. Riding since she was 19, now 27, she was the first woman in the world to successfully accomplish a backflip 360o – which she was really proud to talk about. The interviewer was really good at keeping the conversation exciting for all those watching. He asked Charlotte what's going through her mind when she's racing and she replied, "it's you, your bike and the track. No other focus." It was consuming, thrilling and uplifting to hear how passionate she was about her sport.
Although not fruitful for R&D leads, the sun was shining, a military band was playing, and private jets were flying over the show ground. And great to see so many families enjoying themselves during the cost of living crisis. I also got to sit in a military truck where a note was etched from The Princess of Wales – Kate Middleton – saying 'Kate (and a picture of  crown) woz here'! I took the opportunity to pop my head out of the roof hatch and take in the entire site of the show. The day was also a great opportunity to get to know my team mates on a more personal level which's always valuable.