Out with the Innovation Tax Reliefs team: Hitting Targets
Tanya Wallis, Innovation Tax Reliefs Executive, shares the team's adventures at the shooting range. 
When Vic provided the Innovation Tax Reliefs team with the postcode of a location down some questionable dusty backroads, somewhere out in the sticks of Wellingborough, with guns loaded in his trunk I was hesitant to partake in last month's team event…
After a few of us got lost along the way, and one of us somehow managing to go the wrong way around a roundabout, we all finally arrived at Wold Farm shooting range.
Huddled into the shooting hut, also known as the sweatbox, it was a very hot 30 degree day, we were given our briefing (and water) and let loose on the targets with our rifles. With targets big and small, on land and water ranging from 10 yards to 120 yards, the tinging of metal on metal was in full swing.
The competitive side of the team quickly started to emerge, with moving targets that changed colour from red to yellow when hit, it became a game of who could make the targets all one colour before someone else turned it back again.
The competitiveness continued on to the zeroing in range, fully fenced in to prevent wind when zeroing in your riffle the real target shooting began.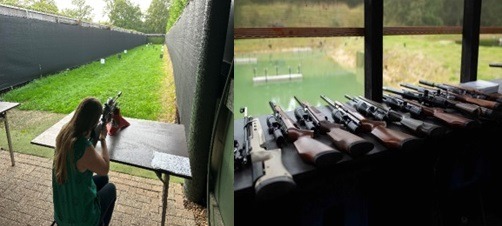 Separated into two teams we had our own target to hit, out of the 4 people in each team, the person with the "best" aim took the final shot at the centre target and the team closest to the centre won. With Nic and Richard taking the final shots, it was Nic's team that were the overall winners, but Richard made sure we all knew how well he had done on his own target!
We finished off our evening with a meal at Bills at Rushden Lakes, with the beautiful weather we sat outside overlooking the lake (how romantic!)